News
Sparklette has been featured in the official WordPress Showcase
---
As you may know, Sparklette is one of my personal projects where I review restaurants and blog travel stories. Since the website was started in 2003, it has won a number of awards, including 3 for its design and layout. The distinguished Smashing Magazine also featured Sparklette for its "fresh, clean and impressive design".
The Content Management System (CMS) used on Sparklette is WordPress. I gave the design an overhaul, building it from scratch. And now, WordPress has selected it to be featured in their official showcase.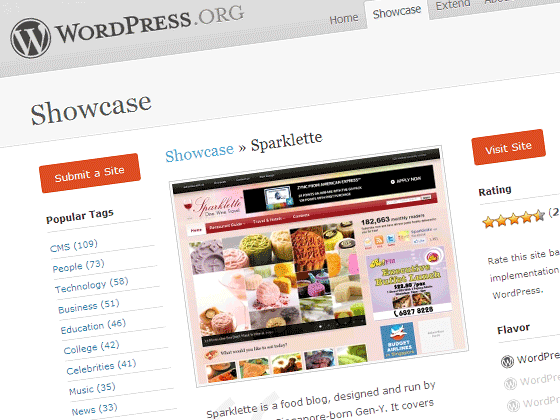 Here are WordPress' criteria for selecting websites:
Blogs and web sites powered by WordPress that make it into the Showcase are typically doing one or more of the following:

Using WordPress in a unique or innovative way.
Attracting tens of thousands of regular readers.
Being written by someone famous or especially notable in his or her particular field.
Representing a notable organization, government entity, or corporation as an official blog or web site.
You can check out the WordPress Showcase to see how other websites are making use of the CMS. Also, don't forget to give Sparklette a 5 star rating to help move it up to Top 10!
---
About the Author
---
3 comments